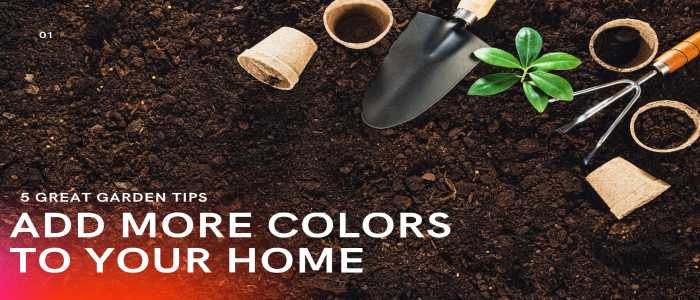 5 Great Home Garden Tips to Add More Colors to Your Home
Every garden is at its best when it looks bright and colorful. A colorful garden boosts the look and feel of a house as a whole. Bright gardens are also the perfect summer retreat when things get too warm in the house. You may be surprised at how much you can get out of a garden by just adding a splash of color here and there. Swapping out the green for some reds and yellows can work wonders and add a depth of personality to your garden.
The good news is that you don't even have to be an expert to get the job done. There are plenty of small DIY projects you can use to enhance your garden. Some of them don't even require the use of plants. Adding some color to the garden doesn't need to break the wallet or be a project you spend hours working on. You'd be surprised at all the places some color can come from. For the garden, things like art, pots, paint, and – of course – plants can all add some color and variety to the garden.
It's impossible to understate the kind of impact a bright and colorful garden can have. So, with that in mind, here are 5 great home garden tips to add more colors to your home.
Leaves have something of a bad reputation in the garden. Some people think they get in the way and need to be cleared. The truth is that they can form the backbone of the perennial garden. Leaves are an important and invaluable part of any garden, no matter how you feel about them. Foliage can play a huge role in adding some variety and color to your garden if you'd just open your heart up to these little leaves.
The right leaves can really complement your flowers and make the colors pop even more, like how the right flowers and colors go together to form the perfect bouquet. Leaves also help to hide problem areas in the garden or draw attention and add a bit of variety to areas of the garden without much foliage.
As you design your garden, you should consider adding some leaves to add a splash of color. The great thing is that they don't need much, if any, work at all. Some plants to consider for their leaves are the coral bell, lungwort, foamflower, hosta, snakeroot, and regular ornamental grasses.
2. Add Smart Irrigation, Birdbaths and Birdhouses – And Glowing Globes
Your garden should be a reflection of your personality. It should be a place where your personality comes through in spades. There's a new trend in town for gardens and it's called the glowing globe. These globes have a special material in them that soaks up sunlight. The globes light up beautifully when the sun sets and are an excellent addition to any garden.
Add a decorative flair to your garden by getting glowing fairies and gnomes. Most gardens have some kind of garden gnome in them. Take your gnomes – and garden – to the next level by making them glow during the night.
Variety is the spice of life here. Place different colored globes around the garden and find fun areas to put them in. Tuck them away in plants or put them on birdhouses and bird baths to shift attention from one part of the garden to the other.
Speaking of bird baths and houses, they themselves make for a wonderful addition to any garden. Create a nestling area for the local wildlife for a truly bright and beautiful garden. Let the birds around you add a splash of color and music to your garden for a touch of true beauty. It also feels nice to know that you're giving birds a place to rest and have a snack or drink. We could all do a little more to help the local wildlife.
Lastly, you may want to consider a smart irrigation controller like the Rachio 3 or the Netro Sprinker. These smart irrigation controllers can water your garden based on your specifications and based on a myriad of factors including soil condition, evaporation, weather changes etc. In addition, they can drastically reduce your water consumption. Not only that, they are also a great talking piece with other garden aficionados 😉
3. Add Color with Outdoor Lighting
While it's true that outdoor lighting mostly comes into play during the evening, it's also true that most people don't get to really take in their garden until the evening. There's nothing wrong with focusing on things that only add color at certain points of the day.
Be creative when it comes to finding and placing lamps in the garden. Don't just put them all in one spot and light up your garden like a football field. Take a minute to think about it. Lighting up a garden is an art form to the point that there are specialists dedicated entirely to proper garden lighting.
Add a touch of magic and the divine to your garden with some beautiful backlighting and down lighting. Think beyond basic white lights. Use different colored lights to create an exciting light show in your garden. You can save money by using LED "projectors". Use the light to draw attention to focal points, light up pathways and walls, or take water features to the next level. They can go anywhere and everywhere for incredible effects.
4. Use Colorful Flowers – and Pots – to Decorate Outdoor Areas
Of course, no garden is complete without flowers. Flowers are – and will always be – the easiest way to add some variety and color to a garden. Don't just rely on flowers though; add some extra pop and personality to your garden by incorporating the pots and containers you keep them in.
By putting flowers in the right pots, you not only beautify their immediate surroundings but you also have the option of moving them. You can easily move the plants around to add color to another part of the garden. It's also easy to swap them out seasonally to keep your garden looking fresh and beautiful no matter the time. Hanging flower baskets can be used to add color to a wall and help to frame the view from a window to make the view from inside that little bit brighter.
5. Use Flowering Plants at the Entryway
The entryway to the garden is the perfect place to add a bit of brightness and color. Place flowering plants by the entry to draw attention to it and also improve the curb appeal of your home all in one fell swoop.
It's easy enough to do this. Just add some pots with flowering annuals or create your own little flowerbed using blooming plants. Place it at the entryway to your front garden and see how bright and beautiful your garden looks to passersby. One quick and effective way to utilize this would be to create a raised bed out of a retaining wall and fill it with pink geraniums for a splash of bright pink.
There are lots of interesting an innovative ways you can add color to your garden. Bright plants are one way to do it, of course, but it doesn't have to begin and end with plants. Find bright furniture and plant pots, get the right lighting, and never stop looking for new places to add a bit of color to your garden. Walk through the garden and consider asking a friend or family member for their thoughts. Add color where it's needed most and you'll have a stunning garden in no time. I hope now you understand about Great Home Garden Tips