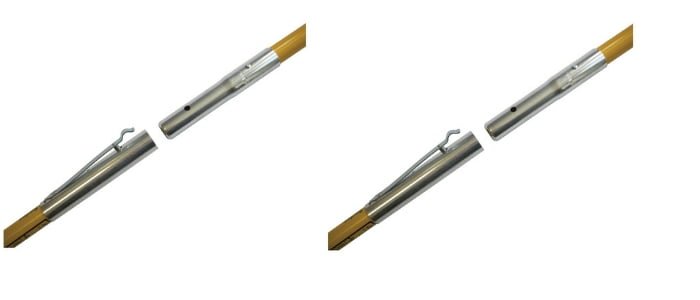 Jameson Landscaper Pole Saw Kit With 6 Inch 3 Poles Review
Landscaping is the process of decorating the garden and give it a new updated look. The essential tool for the lawn is the pole saw. It is an everyday affair that the gardens contain various type of unnecessary and waste branches. Those branches are of no use. So removing those branches is a must when you are landscaping your yard or outdoor. Many of those branches are out of your reach. This is why pole saw is needed. Here comes a decent pole saw for cutting the high limbs which are named Jameson Landscaper Pole Saw Kit with 6 inch 3 Poles. It includes three poles. The saw is made for the upper area branches. It will serve your need perfectly when you are planning to trim the high logs. The three poles are 6 feet each. It means you are going to get 18 feet reach with the pole saw. The pole saw has got Tri-Cut saw blade which is 16 inch.
Features Of Jameson Pole Saw
Reaches The Most Height

The landscaping pole saw has three poles overall. Each pole is 6 feet in length. So when you are attaching three poles together, you will get up to 18 feet reach. In your garden, there might be some trees which are taller than 15 feet. With this pole saw those hard to reach branches will be super easy to cut.
Different Pole Feature

The saw contains three poles. Though it has three poles, they are different from each other when you are considering the pole features. The first pole is permanently mounted with a saw blade. The second one is fiberglass pole. It's the base pole that is connected with female ferrule and rubber base cap. And the third one is the extension pole with both male and female ferrules. They will provide different benefits to the user.
Cuts Hardest Limbs

The pole saw is also a champion when it comes to the cutting performance. It can trim from hard to harder branches with its Tri-Cut saw blade which is 16 inch. With this awesome tri-cut blade the saw is able to cut 3 inches in diameter oak limb by taking some moments. Those who need a hard cutting saw as well as a proper height saw, it's the best choice for them.
Durable Design

The landscaping pole saw also comes with a sustainable design. Design matters the most while attracting the consumers. The saw has a fiberglass pole, sharp finishing on the body and long lasting build materials. Moreover, the saw comes with the best color that matches with nature - Green. The construction and overall design make the saw durable.
It's tough to make the poles apart after attaching them together

Solution: The landscaper pole saw has three poles. Each of the poles is 6 feet long. Overall they will give up to 18 feet reach to the user. But when they get attached to each other, it's not easy to break the bond. The pole connectors are too tight. As a result, you face this kind of problem. Make the pole connector not much loose nor much tight. Maintain an average tightening connection between the poles so that they can be detached with ease to finish the work.
Unable to add more extension as it becomes weighty

Solution: For some users, up to 18 feet high reach is not a sufficient amount. They want more reach as they got many trees with tremendous heights. They tried to add one more extension but it becomes impossible to control the saw. It's because enough amount of poles are already added. The saw is not compatible with more extensions. In that case, you have to use the 3 three extensions that come with the saw.
Frequently Asked Questions
Q. Can I extend the pole to 24 feet high?
A: You can extend it. If you add another 6 feet pole, you will get 24 feet reach. But that's not recommended as the saw will be really heavy to maintain.

Q. Is the blade good enough?
A: The blade that comes with the saw is quite right as it's a tri-cut saw blade. The blade length is 16 inch.

Q. Will it come everything assembled?
A: No, not everything. You have to set up a little bit and it's effortless to do. Then you are set to go.

Q. Is there any chance that the pole will get affected by dent or something like this?
A: There's no chance of dent on the pole as it is made of fiberglass. So no need to worry about it.

Q. Is there any risk of detaching the parts as the saw contains many extensions?
A: There's no need to anxious about the attachments. When they are put together, it's complicated to make them apart.
The sawing tasks are the most important works of a garden. It clears the upper level dead or unnecessary limbs and branches. Thus it gives a new clean and clear look. The sawing job is an essential factor to consider. Because it removes the waste and decorates your garden. Jameson Landscaper Pole Saw Kit with 6 inch 3 Poles is a nice tool for your garden. It's well built and you can work with it regularly without having problems. The pole saw has three poles which are an amazing feature. No pole saw can provide such reach which is 18 feet within a low-mid budget. The pole saw is a hand saw. There's no need to have an electric connection in the garden to run the saw. Though sometimes it becomes problematic to work with a hand saw as you have a lot of arm use, it's a good buy for your outdoor tool.