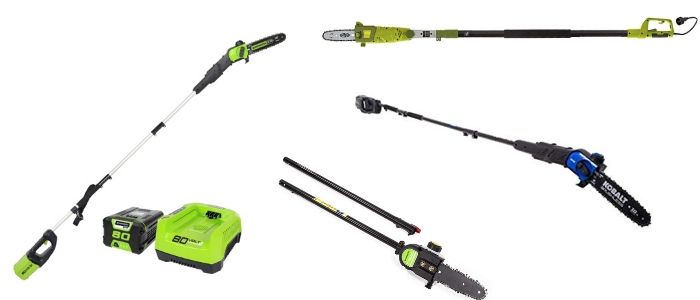 Why Do You Need a Pole Saw for Gardening? – 5 Reasons Explained
There are several types of pole saw to choose from. No matter which type you want to go for based on your needs, it's quite essential for gardening without any doubt.
Don't be troubled, bear with me because in this article, I will discuss elaborately on why you will need a pole saw for gardening.

And guess what?

Buying a pole saw doesn't cost you a fortune either.

Even if you don't know what a pole saw is, and the different types of it, no worries. I will describe them briefly, too.

By the way, you can check gardenyouth if you are looking for more garden related tips.

Now, let's jump right in.
What is a Pole Saw?
You guessed it right. It's nothing but a saw attached at the end of the pole. Typically, it runs by either electricity or battery or gas. However, you have some manual pole saws available too.

The core responsibility of this tool is to reach the higher trees effortlessly and aid you in cutting, trimming or pruning.
5 Reasons You Will Need a Pole Saw for Gardening
1. To Cut / Prune the Branches
Well, this is one of the main reasons you will want to use a pole saw.
Trimming, and pruning the branches are some usual tasks for any gardener. Trimming is required to cut the dead branches for your safety.

On the other hand, pruning is necessary to shape up the tree and improve growth over the years. In either instance, doing it manually will not be a wise step, I should say.
Why?

It's because it's not an easy task to prune the branches that are far above your reach. Who wants to take those hassles of carrying a ladder and climb up it where you have the luxury to reach those branches from the ground?

So, to cut/trim/prune any branches above 10 feet, the advantages of using a pole saw is something you can't deny.
Using a pole saw not only saves you from many hassles but also saves your time. Look, you can quickly set up any pole saw as they feature a straightforward installation process.

Moreover, using a pole saw saves a lot of time for cutting, trimming, or pruning manually. It's because any good saw cuts the branches in a quick time. Altogether, if you don't want to spend unnecessary time on gardening, you should consider buying one pole saw from any reputed brand.
Listen, if you don't want to do the cutting, pruning, etc. by yourself then you are going to hire a professional, right?

Yes, that's an easy solution, but it costs you some extra money.

I bet it's quite practical to invest money on a pole saw than hiring a professional for the long run.
It's your one-time investment for several years to come. Furthermore, you will get the most quality pole saws spending an affordable amount of money.
If you are looking for a perfect finish, you must use a pole saw instead of doing it manually.

Accurate cutting and perfect finish are essential for the aesthetic, and if you do it manually, it will be time consuming. On top of that, you might end up with an incomplete cutting.

Therefore, it's better to use a pole saw for the highest level of accuracy in trimming or pruning.
5. A Pole Saw is Easy to Operate
Operating a pole saw is so easy-peasy that even if you haven't used any tool in your life, you will be able to use it right off the bat. A pole saw is nothing but a simple saw that you could operate pushing a button (manual pole saws are different; I will tell you later).

Setting up the saw for the first time is also a cakewalk that doesn't require too much time. You can adjust the height quite effortlessly, and you won't get tired using a pole saw after cutting a lot of branches.
They are easy to transport, store, lightweight, and require less maintenance. Overall, any good pole saw is user-friendly, and a handy tool to offset your time and effort.

So, yes, those are the top 5 reasons you will want to invest on a pole saw for gardening. If you are not entirely familiar with a pole saw, let me introduce it briefly with some of its types.
Types of Pole Saw
There are mainly four types of pole saw -
Cordless pole saw
Manual pole saw
Electric pole saw
Gas-powered pole saw
To me, a cordless pole saw is the best bet for anyone as it runs by a battery; hence you won't have to tackle the hassles of maintaining cords.

You can take it anywhere you want at any time. Cordless units are lightweight too.

The only thing you have to manage is to make sure the battery has adequate charge before you start using the unit. Typically you will get a rechargeable battery with most of the quality cordless pole saw.
Manual pole saws are pretty handy when you require longer poles to cut higher tree branches.

Any manual pole is lightweight and costs less than other types of saws. With that said, don't expect a fast cutting with this type of saw as you have to cut it manually.
An electric pole saw is probably the widely accepted type of unit that runs quiet and doesn't break your bank.

It's lightweight too.

The primary tradeoff of electric pole saw is, it runs by the electricity, and you have to adjust with the length of cord in this case.
No doubt, this type of unit is for heavy-duty cutting. Like any other gas-powered tools, a gas-powered pole saw has a lot of power.

To cut thicker branches and trucks, you should go for a gas-powered pole saw.

However, regarding the price, this type is on the higher side among others.
I'm sure now you have got your answer for 'why you will need a pole saw for gardening'.

Bottom line: To save money in the long run, do the trimming, pruning accurately, efficiently spending less amount of time, you really should invest in a quality pole saw.

You can go any of the saw types I've discussed above based on your needs.

No matter what, you must wear other safety gears as well while cutting or trimming tree branches.