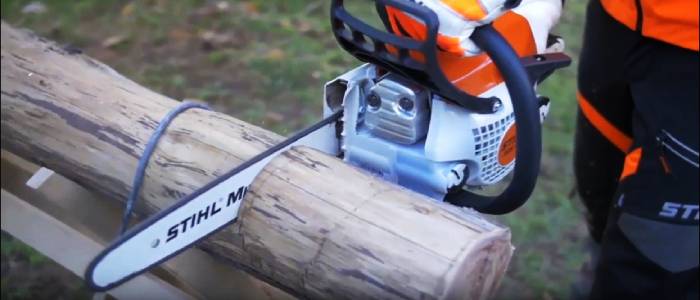 How To Use A Chainsaw properly and Tips for Beginners
In our daily life, often we need to do some small cutting job which does not require any particular skill. In that case, many of us don't want to call the professionals to do these small tasks. So, if you are one of these persons, then this article is definitely for you. Besides, hiring a professional means you have to call them, wait for them to do these simple tasks and obviously, it's going to cost you a lot of money. So, if you know How To Use A Chainsaw properly, then it not only save your time and money but also it's a great skill to learn. In this article, I will describe how to use a chainsaw and sharpener, and I hope after reading it, you will learn about chainsaws.
However, before discussing about how to use a chainsaw to cut down a tree, I should tell you that, it's the most dangerous power tool available in the market which can cause life-changing injuries. So, you need to be very careful about using it and always wear protective gears before working with the tool. Please note that, if you are not 18-year-old, then even think about using the tool.
What is Chainsaw
A chainsaw is a portable power tool which cuts wood via a fast-moving chain that rotates around a guide bar. It can easily do the pruning, felling, limbing, and bucking trees and so on. But you should know that it is also one of the most dangerous power tools in the world which doesn't need any license to operate. The tool is designed in such a way that it cuts anything which comes in contact with the rotating blade. But you should know that it may make the cutting job easy, but when it comes with the touch of anything that you are planning to cut, it gives a kickback which can cause life-changing injuries. So, you should know how to use a chainsaw safely.
What you will need to do the job
If you don't feel comfortable to do the cutting job on your own, then it's never too late, and there is no shame of hiring a professional. Now, if you are determined about learning about a chainsaw, then the first thing you will need is the saw which is ideal for you. In that case, you can go to a showroom where you will be able to lift them and find out which one is perfect for you. There are a variety of chainsaws available in the market, and some of them are lightweight, and some are heavy.
You need to know that the bigger is not always the better. The large and powerful models can easily cut a big tree, but they are also quite challenging to handle for a beginner. On the other hand, less powerful and small saws can also do the cutting job, but they take some time. Besides, there are electrical, gas, or Petrol powered chainsaws available in the market, and you can choose any of them.
Gas or Petrol powered chainsaws are mostly heavy, but they are extremely powerful also. The weight and dimension actually differ from the machine size you will select. They are ideal for cutting a big tree down or cutting large limbs. The professionals or those who cut trees regularly, they choose these chainsaws. But note that, these saws may seem powerful, but these are quite difficult to handle for a beginner.
On the other hand, electric powered chainsaws are much lighter and quieter than the Petrol powered saw. These are best for doing small jobs like trimming small branches. If you are not regular about using it and only use the tool occasionally, then it might be a great choice. Besides, these are much easier to operate rather than the patrol powered chainsaws.
After buying the ideal chainsaw its essential to maintain it properly; otherwise, it won't last for long. Most of the cutting and trimming job done in the dormant season and the rest of the time the tool rests idly. So, one of the vital chainsaw tips for beginners is to take care of the tool regularly. You need to charge the battery of the electrical chainsaw regularly and clean the blade. Always store the electrical chainsaw in a box so that rust won't damage the saw. The petrol chainsaw needs a little bit more maintenance than electrical chainsaws. To ensure the longevity of the saw, always maintain a balance oil and gas ratio of the petrol-powered chainsaw. Never work with broken or damaged parts and replace the parts after a certain period. Keep in mind that working with defective parts can seriously damage the chainsaw or even cause serious injuries. So, never start working with the tool unless you are 100% sure about its maintenance.
Safety is one of the first issues that you should consider if you are even thinking about using a chainsaw. I have mentioned earlier that, it is the most dangerous power tool which you don't need any license to operate. So, you should operate the tool after taking 100% safety precautions. You can also see some videos on how to use a chainsaw safely YouTube.
Chainsaw tips for beginners
Now If you have found your ideal chainsaw and ready to work with it, then you should follow these steps. But note that, never work with a chainsaw without wearing protective gears.
Before starting your cutting limbs, it's essential to check all the parts of your tool. If it's an electrically powered chainsaw, then check the battery is fully charged or not. Don't work with low charge because it causes severe damages to the tool. However, if it's a petrol or gas powered tool, then at least fill 75% of the tank. Besides the fuel level, also check the blade and fix the damaged teeth of the blade. Don't forget to sharpen your saw and lubricate it before working otherwise it's going to cost you a lot of time to do the job, and it will put serious pressure on your tool. After all these, fully check your power tool and see if there are any damaged parts exist that you forget to replace. After reviewing all these if you are satisfied with your tool, then you are good to go.
Chainsaw Starting Techniques
After checking your power tool, you need to know how to use a chainsaw properly. Before operating the power tool, the first thing you should know about starting the chainsaw successfully, there are two recommended methods of starting the tool. If you are operating it on a plain surface, then you should keep the tool on the ground and ensure that there is no object near the bar and chain. Now slip the toe of the right foot on the opening on the rear handle and keep the left hand to pressing down the front handle and pull the starter rope with your right hand. Keep pulling the starter rope until you hear the saw Burke.
Now if you are not working on a plain surface, then obviously this technique won't work. So, in that case, you should hold the tool between your legs, grip the handle with your left hand and pull the starter rope with your right hand.
Before start cutting the trees, check the working area, and see if there is an electrical power line exist in your working path. If so, then maintain a safe distance from it. Be familiar with your working areas and ready for any possible outcomes. Also, check that nothing is going to fall while working with your chainsaws.
Never try to cut beyond your shoulder
It's become quite challenging to control the chainsaw above your shoulder. There is a high chance of losing balance if you lift the chainsaw beyond your shoulder.
Controlling the kickbacks
One of the challenges that every beginner face is to control the kickback of their chainsaw. Most of the accident mainly occurs because of this. Modern saws are equipped with protective leather mitt attached to the front handle that can protect your hand and help prevent kickback. If your power tool has one of this, then make sure that it's working correctly. To reduce the kickback, grab the tool with both hands and take extra care while cutting light materials which could be stuck with the chain. Also, make sure that the brakes work properly.
If you plan your every cut and it minimizes the chance of causing an accident. Never operate a chainsaw in the slippery ground. Don't put much pressure on the tool and just hold the saw with the limb and the power tool will do the rest. Don't try to cut the limbs which are thicker than 9 inches. If you don't feel comfortable while cutting a tree, then back off and call a professional.
If you are a chainsaw beginner and want to know how to use a chainsaw to cut logs but you should read this section. Always start cutting the logs from one side of the tree and after completing that part, go for the other part. Start cutting limbs from the bottom of the tree and never cut the limbs above your shoulder.
Some necessary things you need to keep in mind
These are some of the basic things that I hoped you already know, but just for reassuring, I am writing it down.
There is no doubt that the chainsaw is the most effective tool that keeps our jobs much more comfortable. If can do hours of cutting jobs in a minute. Though it's a useful tool but keep in mind that, it's also the most dangerous tool. So, don't use the tool without proper safety precautions. Keep in mind that one chainsaw cannot perform all the task. So, know your need before buying a chainsaw. Before starting your task always clear the area, control the kickbacks, and plan your cut. These simple steps not only make the job more comfortable but also increases your safety.
If you are not a professional or doesn't use this tool regularly, then don't go for buying the bulky and expensive chainsaws. In my opinion, electrical chainsaws could be a wise choice for beginners because they are quite easy to operate. In this article, I tried to discuss some of the chainsaw tips and tricks which may help you to know How To Use A Chainsaw properly.